The flickering image is now motion smoothed and consumed as couch fodder.
by Michael Bergeron
If a year didn't deserve awards or a series of accolades requiring the requisite ten count 2020 is that year. There were hardly ten films even released in theaters this year.
That's not true but it feels that way.
Truth be told, the best films of 2020 would include films that came out in 2019 and films that will premiere in 2021. For instance, both "The Personal History of David Coppperfield" and "The Painted Bird" made the festival rounds late in 2019 but only became available in Summer 2020. The distributor of the latter IFC has actually found an active niche in the new theatrical paradigm with their films finding an outlet onto screens without competition from studio product.
When the new Bond or Tom Cruise or "Dune" finally flickers in 2021 whatever perception they inspire will be shaded by the question of how it would've played minus the pandemic shutdown.
The theatrical shutdown has forever changed the way people perceive movies; the flickering image is now motion smoothed and consumed as couch fodder.
A boutique PR firm emailed film reporters pleading for "a Rotten Tomato certified critic" to give a positive review. They only needed one more thumbs up for their film to have the necessary percentage to achieve a fresh rating.
Our society is literally one step away from broadcasting gladiator death matches. With that in mind we now present the best films of 2020.
Best of 2020: Docs
Documentaries showed up in force in 2020. Political themed docs in particular offered more films concentrating on revolutions ("Coup 53"), assassinations ("Assassins"), war ("Apocalypse '45") and failed rescue attempts ("Desert One") than fictional films. Toss in pertinent docs about the pandemic ("Totally Under Control") and local politics ("Mayor" and "City Hall") and you've got a thought provoking top ten.
Animal magnetism wins out with a couple of titles that observe everyday life with distinct eyes especially if you're an octopus or a farm animal.
"My Octopus Teacher" and "Gunda" are filled with lovable creatures but the heart of each film preserves the law of the jungle. It's as if the filmmakers were observing the Star Trek Federation law that prohibits interferences with other life forms. In the end our animals are devoured by fate.
Imagine if the fictional character Napoleon the Pig from Orwell's "Animal Farm" made a film, and that's what you have with "Gunda."
Starting and continuing with a complete lack of human dialogue "Gunda" introduces a litter of piglets feeding off their mother. We also meet a one-legged hen undaunted by her affliction and some cows who find grazing in the grass a gas.
When the camera stays at ground level (or animal eye-level) to depict a trailer that's come to cart the young porkers to the slaughterhouse you feel the adamant cold touch of Norwegian filmmaker Vikto Kossakovsky. Likewise, the hopeless squeals of Gunda are just another reminder of the circle of life.
For "My Octopus Teacher" filmmakers Pippa Ehrlich and James Reed spent a year with diver Craig Foster as he forms a relationship with a mollusk. Foster dives with just a snorkel in very cold water and forms a unique bond with an underwater denizen that eventually displays the same playful personality as a dog or cat. The cinematic view of this under-the-sea-paradise adds to the enjoyment. The twist is very Disney but the colors and textures transcend normal documentaries.
At any point Foster could spear a pajama shark that feeds on octopi but that's not the point of the film. Just as our heroine feeds on lobster one day she'll gives birth to a million babies and become the meal du jour.
Best of 2020: Foreign films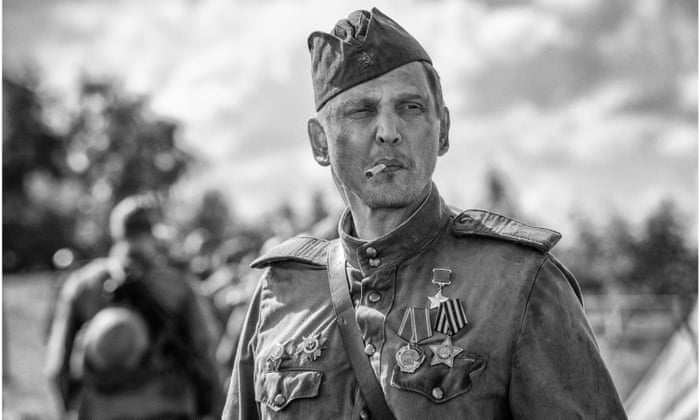 "The Painted Bird" –this WWII epic as seen-from-the-eyes-of-a-child rates as an instant classic.
"Dear Comrades" – Russian director Andrey Konchalovsky chronicles a factory strike that turns into a massacre in early-60s Russian.
"A Sun" – low key Taiwanese drama (dumped on Netflix) about a family divided after the eldest son participates in a horrific crime.
"Bacurau" – at first sedate drama evolves into a weird cross-genre tale about a primitive Brazilian village stalked by a most-dangerous-game gang of Eurovillians.
"Beasts Clawing at Straws" – South Korean crime thriller involving a designer bag full of cash that unfolds in a non-linear and sometimes surreal manner.
"Collective" – Romanian documentary that follows a hospital scandal with low profile reporters. The entire incident eventually gets picked up by larger media and sways the next national election.
Best of 2020: Jack London
Jack London (1879 – 1916) was more of a worldwide celebrity than Mark Twain and his output as an American novelist encompasses pure adventure, science fiction and social-minded dramatic narratives with a strong minded individual in the lead. An example of the latter "Martin Eden" has been adapted to movies since the silent era. In the current Italian adaptation our hero rejects normal society, becomes a famous writer only to become a pretentious ass and finally drowns himself.
Luca Marinelli stars as Eden and constantly reminds audiences of the energy of '70s De Niro in films like "1900."
While coming across as a family oriented film with a CGI dog "The Call of the Wild" has many layers to offer audiences the least of which is the way the human hero (Harrison Ford) acts like a conduit to experience the tribulations of Buck (a St. Bernard/Scotch Collie). While their path cross from California to the Yukon only one will survive the harshness of nature and the vanity of man.
Best Films of 2020
"Soul"- There are so many layers to what may be the best Pixar film to date. One is certainly a space-age-jazz-hipster-pad soundtrack from Trent Reznor and Atticus Ross. The freaky-Friday cat and human switch pays homage to mother Disney. The whole affair signifies the move to the politically correct leadership represented by director Pete Docter becoming Pixar Chief Creative Officer replacing John Lasseter after his fall from grace.
"First Cow" – While unassuming, coming out in art houses in early March only to disappear in the epidemic miasma, Kelly Reichardt's early 19th century Western turns genre conventions around without being stuffy. A duo of bumbling cowpokes steal milk from the only cow in the territory in order to make craft biscuits that they sell for top dollar to local miners. This pair of lovable misfits could've literally stepped out of the frames of an Eagle Pennell film.
"Tenet" – Love it or leave it time travel conundrum brought to life by Christopher Nolan. There will come a time when the kind of special effects Nolan employs like actually crashing a jet airliner into a terminal will become passé as cinema morphs from big screen extravaganza into living room comfort.
"Lovers Rock" – Part of a series of stand-alone British television films under the handle "Small Axe" written and directed by Steve McQueen. Imagine the best house party you were never invited to. Mix that with McQueen's unique framing devices and a happy-go-lucking ending.
"I'm Thinking of Ending Things" – Buried deep in a Netflix mine earlier this year but you can't keep a good film down. Charlie Kaufman runs the gamut of existential epiphanies meeting hybrid filmmaking. Jesse Plemons and Jessie Buckley travel through the snow to meet his parents. A black-and-white commercial for a fast food restaurant and scenes from the musical Oklahoma! reveal as much of the mystery as anything else on display.